 BUILDING COMMUNITY THROUGH CONVERSATION
Separated by race, ethnicity, gender, sexual orientation, politics, religion, and class, people are increasingly angry and afraid. Many of us long for connection and a wisdom that transcends tribalism and competing religious fantasies. We wish to peer beyond the parochial to glimpse the perennial: to dive beneath the surface of religious beliefs and plumb the depths of spiritual truths, and to do so in the company of others with whom we can promote a more just, compassionate, and thriving world. The One River Foundation offers Cup of Wisdom salons as a way to do just that. The One River Foundation offers Cup of Wisdom salons as a way to do just that. We call them salons in the 18th century sense hoping they will be places for a diverse group of people to meet and talk and create things of beauty – friendships, community, and understanding and compassion for one another and the world.
Built around Perennial Wisdom and The World Wisdom Bible, Cup of Wisdom salons are intimate, informal gatherings that honor the human religious impulse without promoting any specific religion, and cultivate open-ended conversation where doubt is welcome, questioning encouraged, and friendship is rooted in shared inquiry rather than shared theology. Our goals are three: to provide you with a safe place for doubt and dialogue; to introduce you to Perennial Wisdom, the shared insights of the world's great saints and sages at the mystic heart of all religion; and to invite you to reinvigorate your life and the life of your community through the power of conversation so that we might engage one another in real dialogue about the big ideas that can lead to the change we all seek.
ON DIALOGUE
I believe we can change the world if we start listening to one another again. Simple, honest, human
conversation. Not mediation, negotiation, problem–solving, debate, or public meetings, Simple, truthful
conversation where we each have a chance to speak, we each feel hear, and we each listen well…
Human conversation is the most ancient and easiest way to cultivate the conditions for change—personal
change, community and organizational change, planetary change. If we can sit together and talk about
what is important to us, we begin to come alive. We share what we see what we feel and we listen to
what others see and feel. – Margaret Wheatley
To establish communities of seekers of every faith and none rooted in Perennial Wisdom and The World Wisdom Bible.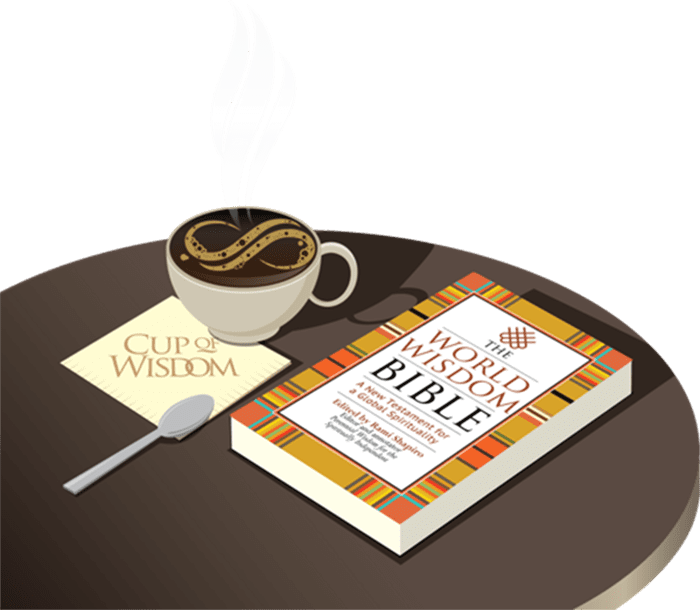 Cup of Wisdom salons are a series of ninety–minute informal gatherings held in private homes, libraries, bookstores, community centers, or coffeehouses. After introductions and a few moments of silence, participants read sections of the World Wisdom Bible to themselves, or quietly read them to someone for whom reading isn't possible. After twenty minutes of quite reading, you are invited to turn to a neighbor and share a teaching and why it moved, mystified, or inspired you. After twenty minutes of dialogue, the conversation opens to entire gathering to glean each other's personal wisdom. The salon closes as it opened with a few moments of silence

Cup of Wisdom salons are safe, hospitable spaces for exploring the important questions of our time. Cup of Wisdom salons are places for real dialogue between thoughtful people.
Dialogue is people listening and talking together. It is people intentionally engaging in a shared exploration towards greater understanding, connection, and the possibility of transformation. Dialogue is not concerned with winning arguments, coming to conclusions, solving problems, resolving conflicts, achieving consensus—or anything other than sharing ideas.
In the context of Cup of Wisdom, the journey is the goal.
BECOME A CUP OF WISDOM HOST
Cup of Wisdom salons cannot exist without a host, and the success of any salon depends on the host. To help make your salon a success, we provide you with a Cup of Wisdom kit which includes a Cup of Wisdom Leadership Guide, and a copy of the World Wisdom Bible and a Cup of Wisdom mug for each participant at no cost.

One River provides the Cup of Wisdom kit to each salon at no cost.
The sustainability of the Cup of Wisdom program depends upon the generosity of hosts and guests. We rely on the principle of Pay It Forward: responding to the kindness and generosity of one person by being kind and generous to someone else. The Cup of Wisdom kit you receive (twelve copies of The World Wisdom Bible and 12 Cup of Wisdom coffee mugs) is provided to you free of charge through the generosity of strangers, who received their Cup of Wisdom kit through the generosity of strangers. And, those strangers, too, received their kit through the generosity of still other strangers. All that we ask is that each Cup of Wisdom participant choose to keep the Pay it Forward tradition going.
Think of it as a "chain letter" seeding a new consciousness that will help bring about a just, compassionate and thriving world guided by Perennial Wisdom and the ethic of interdependence it reveals. And, that is what One River Foundation, The World Wisdom Bible, and Cup of Wisdom are all about.
By choosing to Pay It Forward – making a tax–free donation of $25.00 or more to the One River Foundation – you make it possible for others to receive free copies of The World Wisdom Bible as well.
One River Foundation is a 501 c 3 non–profit organization so all monies donated are tax exempt.